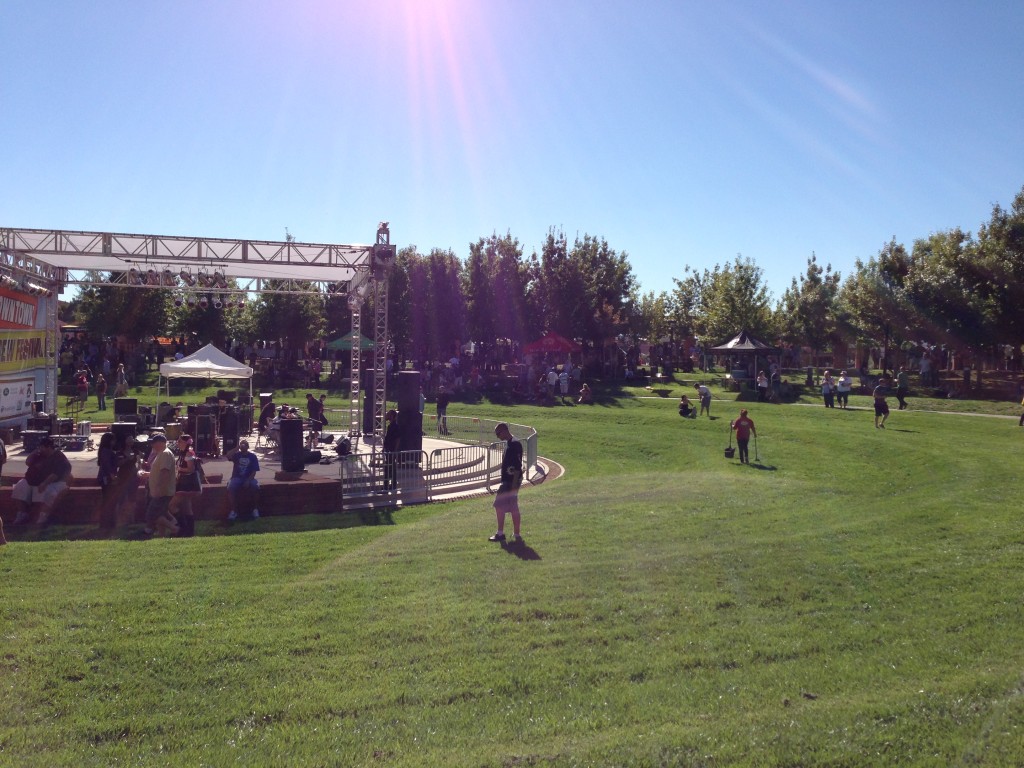 A shot of the festival grounds with local band Tribal Seeds
On October 20th, Motley Brews presented the follow-up to their 2012 Great Las Vegas Festival of Beer: The Las Vegas Downtown Brew Festival. After having a blast at the last Motley Brews presented festival, I was more than excited for this one. To start with, the location and timing of this event could not have been more perfect! The Clark County Amphitheater is a nice, large, outdoor venue, and the great October Vegas weather made for a phenomenal marriage!
For their first outing in 2011, I had complained that the event seemed disorganized, and way too compact. These problems were pretty much resolved on their second go around. This time, I can only tip my hat to the organizers and sponsors of this fantastic festival! We arrived a bit late (roughly 2:15 PM), but had no trouble finding parking in the large adjacent parking lot. Upon walking up to the entrance, we were quickly able to redeem our Groupons, and were inside and ready to drink within just a few minutes.
Upon entering, we made our way right to the Joseph James tent to try and wet our palettes with their R/D #11 Ginger Lemon Weizen. Thankfully, and remorsefully, we were able to get our hands on the very last drops, which may have proven to be the best beer I had the pleasure of experiencing. The beer tasted like a mix of spicy ginger ale with a refreshing lemon twist. I really hope this one sees a bottle release, as I want everyone to be able to taste this amazing local brew! Their other two R/D offerings did not disappoint either; both the Black Rye Session Pale and the Bourbon-Barrel Aged Russian Imperial Stout were quite the tasty offerings! Joseph James never ceases to amaze me when it comes to what they pull off for these special events. I will continue to look forward to more R/D batches, while still sipping on their great year-round fermented offerings.
Karl Herrera, the Las Vegas Beer Ranger, pouring some New Belgium brews

Our next stop was to the New Belgium tent to get a pour of their refreshing Shift Lager. Shift really is a perfect summertime beer with its light-body, and flavorfully crisp finish. While chatting with Las Vegas' new Beer Ranger, Karl Herrera, he officially coined the term "Get Shift-faced!" which pretty much demands to be on the front of a T-shirt! New Belgium was also pouring their Red Hoptober, Ranger IPA, and of course, Fat Tire. Their Super IPA was also on display at the Get Hopped Up Tent, along with Stone 16th Anniversary IPA and Bear Republic's Racer 5.
Tim and Alex from Tenaya Creek
From there we hit another local favorite in Tenaya Creek. They were happily pouring their new Dutch-style Belgium Tripel, Oktoberfest Lager, the recently bottled Hauling Oats Oatmeal Stout, and their iconic Hop Ride.  Not to mention, they also decided to unveil a Hop Ride infused popcorn!  Being a Las Vegas staple for years, you really can't go wrong with anything that Anthony and Tim brew up. Their year round beers are top-notch, and their seasonal brews always leave you looking forward to the next one! If you haven't been to the brewery yet, you should make it a point to do so. Hell, there's a good chance you'll see your's truly at the bar sipping on a Hop Ride!
Another local staple, Big Dog's Brewing Company was pouring just nearby. Their selections included Dirty Dog IPA, Las Vegas Lager, Lake Mead Monster Double Red Ale, and the Great American Beer Festival 2012 Silver Medal winning Red Hydrant Ale! Big Dog's is another local brewery that you just can't go wrong with! While I would have loved to have seen the seasonal Pumpkin Ale, or the monster that is War Dog IPA, I was more than pleased with what they had to offer! With 2 locations in the Valley, there is no reason not to stop by and grab a drink!
After making our rounds with the local breweries and New Belgium, we decided to hit the outside circle and try and get our hands on some beers we haven't had before. Our next stops were to Tommyknocker's and Moa. Tommyknockers, from Colorado, is fairly new to the Las Vegas craft brew scene. They had with them a nice assortment, including Vienna Amber Lager, Maple Nut Brown, Imperial Nut Brown, and a nice, mild, Pumpkin Ale. All of their offerings were solid, and can be found locally at this time.
Moa, from New Zealand, is a brewery that I have yet to try, but I've always been curious about. They had samplings of their Breakfast, Pale Ale, and Blanc Evolution. I only tasted the first two, but I was quite fond of both! As a nice contrast to most breakfast inspired stouts, Moa's Breakfast had a bright, wheat, sweet cherry flavor that would pair nicely with a berry muffin or eggs. While it won't be for everyone, I think it would be a nice substitute for a mimosa at brunch. The Pale Ale had a subtle citrusy hop nose and flavor, which was balanced by a bitter malt aftertaste.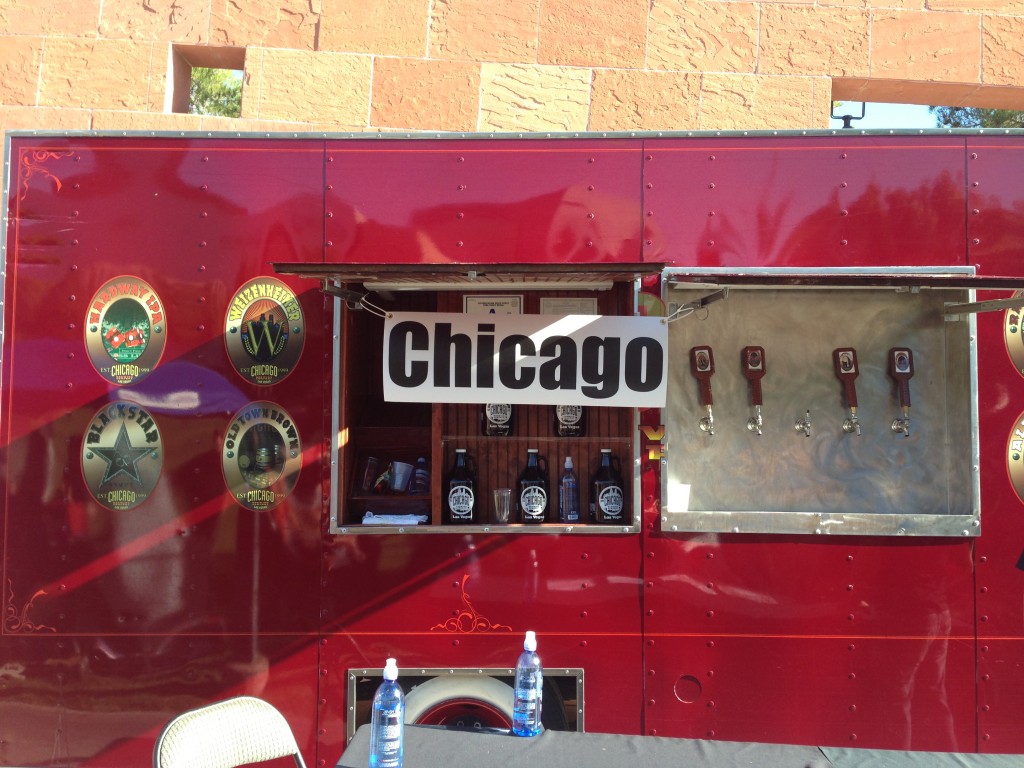 From here, we went along the line, sampling well known beers from the likes of Dogfish Head (Namaste and Midas Touch), Firestone Walker (Pale 31, Union Jack), Sierra Nevada (Hoptimum, Pale Ale, Torpedo, Kellerweis), Lagunitas, Indian Wells, Three Monkeys, Chicago Brewing Co., and a newer name to the Las Vegas scene: Riley's
To be honest, I had not heard much about Riley's until this event. Riley's is a smaller brewery from Madera, CA, who are in roughly their fifth year of existence. Their lineup consisted of: Sancha, which reminded me of a cross between a pale ale and a honey ale; Vixen: a coffee/chocolate inspired stout; and Wildcat IPA. All three were quite tasty brews, and show a lot of promise for this new brewery. I'll be looking forward to what they decide too cook up next!
If there is one beer trend that I really enjoy, it's the new "Session IPA/Pale Ale" trend. Something just appeals to me about a low ABV, flavorful IPA that won't make you feel all nice and fuzzy after just one glass. Thankfully, one of our last stops, Ballast Point, brought along a beer that is a perfect pale ale for this occasion. Their Even Keel Pale Ale, was just fantastic, and perfect for this mild October day. It had a perfect pine aroma, with just enough citrus to hit your nose. The taste was quite the same, with a great dry finish that didn't linger for too long. Not be outdone, they also brought along an arsenal of their other lovingly-crafted brews: Big Eye IPA, Calico Amber, Pale Ale, and the incomparable Sculpin IPA.
 I can't finish this without giving a shout-out to all of the food vendors that made it out to quench the hunger of the beer sipping crowd.  From restaurant representatives to food trucks, there was something for everyone. Our eatery of choice ended up being Haulin' Balls, who serve a variety of gourmet sandwiches based around, you guessed it, the meatball.  The food was nothing short of remarkable, and I would recommend that any carnivore seek them out.
All in all, this may have been the most pleasant beer festival that I've had the opportunity to attend. A big thanks is in order to all the vendors, sponsors,  and especially Southern Wine and Spirits of Nevada for all the phenomenal brands that they helped bring together! As a group, we'd also like to thank any of our followers that found us and said hello. It's always great to meet you guys in person, and we appreciate all of the kind words and constructive feedback that we receive.
In closing, if you have not had an opportunity to attend one of these festivals, then you are missing out! Do yourself a favor and make sure that you clear your calendar off and come out and have a blast! …I'm sure you'll see us there!
Your's truly filling in for Karl at New Belgium, while he took a well deserved bathroom break