This past Friday, I had the opportunity to take part in a Lagunitas beer pairing dinner at Mandalay Bay's Fleur. The event was organized by Certified Cicerone Sarah Johnson, Mandalay Bay's director of food and beverage. The event was wonderfully executed, and featured not only great beer, but also very delicious food paired with it. Without further ado, let's discuss the incredible dinner that took place!
Pils
Lagunitas' pilsner was the first beer that we were given, to help whet our palates and prepare us for what was to come. This beer is extremely dry and crisp. It has the firm bitterness that pilsners should be known for, with a nice, grassy finish.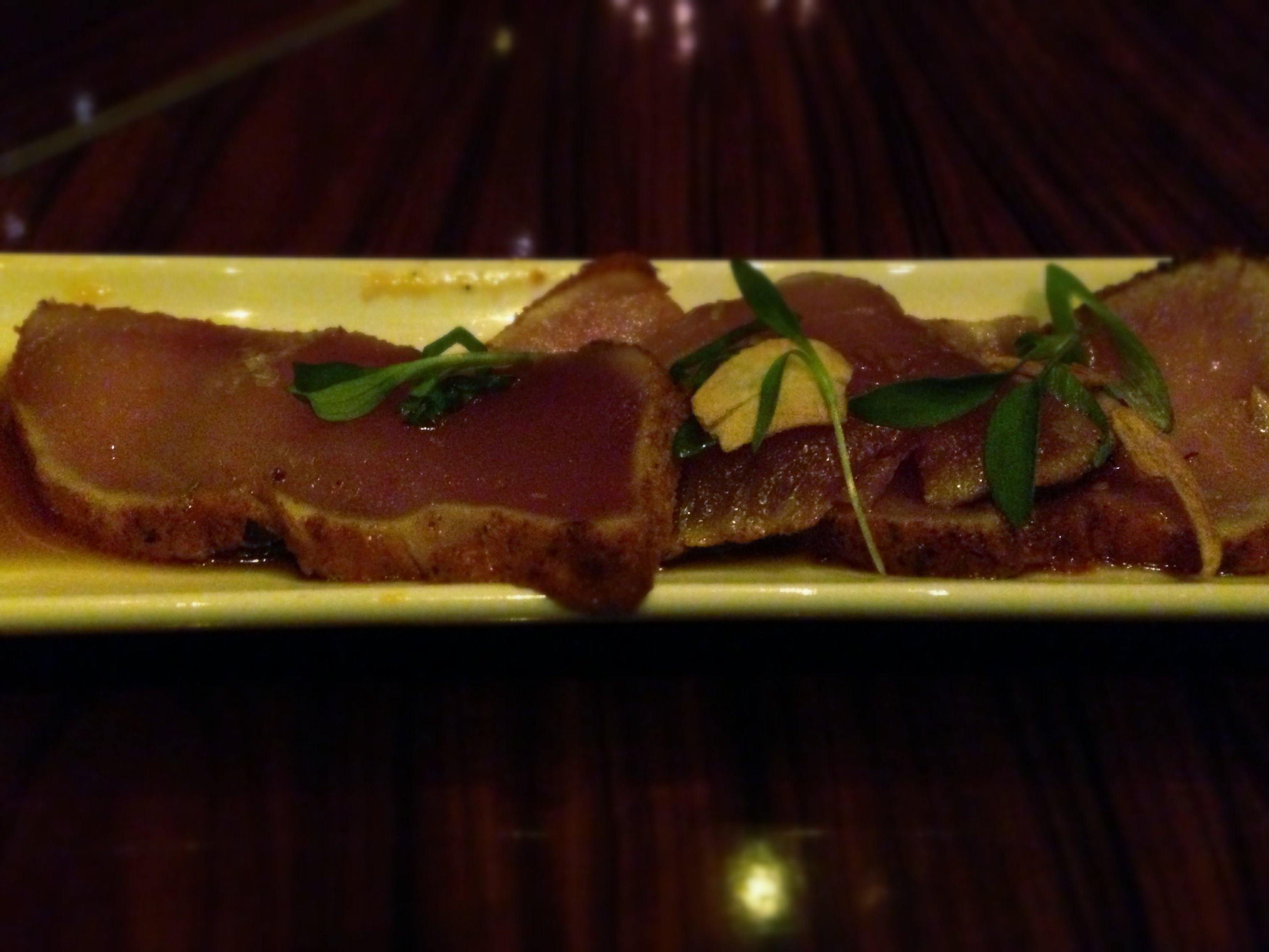 Seared Cajun Albacore, Yuzu Soy Vinaigrette, Garlic Chip paired with Censored Rich Copper Ale
Censored is an amberish red ale. It's got a very sweet and rich malt character. Hops are at a minimum here, only poking their head out to balance out the sweetness at the very end and give it a little bit of an earthy finish. However, what made the beer really stand out, was the tuna. It was beyond soft and tender; the pieces would just fall apart in the chopsticks when trying to pick it up. The light, delicate flavor of the tuna was complimented by the sweet, soy vinaigrette that matched the sweetness in the beer perfectly. However, my favorite part was the green onions that wait until the end to bitter up the palate and clear out all the sweet flavors, causing you to reach for another sip of beer!
Wagyu Beef Carpaccio, Truffle Vinaigrette, Shaved Parmesan paired with Little Sumpin' Sumpin' Ale
The beer is all fruitiness, but not quite as sweet as Censored was. The beer is made with three different kinds of wheat, creating a soft body and a lot of sweet bread flavors in the beer. A bouquet of hops pour out of the glass. It's very fruity, with aromas of various citrus and tropical fruits. It smells like Fruity Pebbles. Thin strips of raw beef were wrapped around a bushel of arugula and topped with parmesan, basically encompassing the only ingredients worth putting in a salad. After chewing on the bitter, peppery arugula, the fruitiness of Little Sumpin' Sumpin' was a refreshing palate cleanser.
Loup de Mer Veracruz Style, Caper Beurre Blanc paired with Lagunitas IPA
That's a bunch of fancy words that really mean "sea bass." The crispy skin of the fish covered the very light and flaky meat, which was surrounded by artichokes, peppers, and olives. The mix of spices and vegetables gave the dish an herbaceousness that matched in character to the IPA. Lagunitas IPA is a great middle of the road IPA. It has a moderate malt character that you don't quite find in IPA's anymore. The hops have some of the typical grapefruit like bitterness, but it primarily leans towards a piney, floral character. While I do love the super dry, overly citrusy IPA's, this beer was a reminder of how good a balanced IPA can be.
Lagunitas Braised Shortribs, Celery Root Mousse, Coffee Foam paired with Wilco Tango Foxtrot
This was definitely the best dish of the night. The beef was super tender, and just fell apart upon touching it. The coffee foam was more amusing than anything, but still added an interesting texture and added flavor. Celery root mousse was like eating sweet, creamy mashed potatoes. What made this paring great, was that the beef was braised in Wilco Tango Foxtrot. This beer is awesome. It has a strong, almost chocolatey malt backbone, but is also filled with massive citrus flavors from the hops.
Imperial Stout Bacon Beer Float
Not only was there a strip of bacon sticking out of the glass, the ice cream also had bits of bacon in it too. Not much can really be said about this. It's one of those desserts that needs to be experienced to understand. It's sweet, salty, and chocolatey. It was just perfect.
2009, 2010, 2012 Brown Shugga
In closing, we were given a platter of stinky cheeses and candied fruits and nuts to enjoy along with various vintages of Brown Shugga. Brown Shugga is Lagunitas' winter seasonal beer, and it encompasses all the things that you should want in a winter beer. It has a bit of caramel-like malty sweetness to it, but also enough alcohol to balance it out. Fresh beer is always delicious, but it is also fun to age a beer and see how the character changes and develops. The 2009 vintage was incredibly smoothed out, with very little heat, or sweetness overpowering it. The beer becomes dangerously easy to drink at that point. I personally preferred the 2010 vintage. This had more oxidative characters to it, primarily those associated with higher levels of alcohol. Whereas the 2009 was easy drinking, the 2010 was incredibly complex in flavor, so much so that it demands to be sipped and enjoyed slow.
Once again, this was fantastic event, and was a great example of how beer can play a part in fine dining. Sarah Johnson's next event will be a Beer Garden that is taking place as a part of Vegas Uncorked. Expect to see lots of delicious beers and awesome food!