You would have to be living under a rock to not see the impact that ciders are making on the beverage industry. Angry Orchard from Sam Adams is currently dominating the market with both Anheuser Busch and MillerCoors adding additional cider brands to their already existing labels. Sadly, these ciders do not do the style justice. That's what we have Tieton Cider Works for.
I've had a few of Tieton's ciders, and while I found them all to be very enjoyable, and extremely food friendly, I am immensely drawn to one particular cider of theirs.
Yakima Valley Dry Hopped Cider is one of the most unique beverages that I've had. Most of the typical name brand ciders sold are oddly sweet, and more reminiscent of a sugary apple soda then anything else. Tieton's ciders were thankfully far closer to the dry side, with the Yakima Dry Hopped being the driest of the four that I tried. It still had the bright, green apple characteristics that their other ciders had, but this was paired with a light grassy/floral hop aroma. Don't take this the wrong way; it's not hoppy in the sense that a beer is hoppy. There's no bitterness and the aroma isn't as attention grabbing as an IPA; but it's a very balanced, and nuanced way to introduce an added characteristic to cider, without making it overly sweet by simply adding more fruit. Instead of bitterness, there's a light tannic bite of apple skin, and the finish is very dry, with a lingering flavor that has a strong resemblance to the initial floral aroma.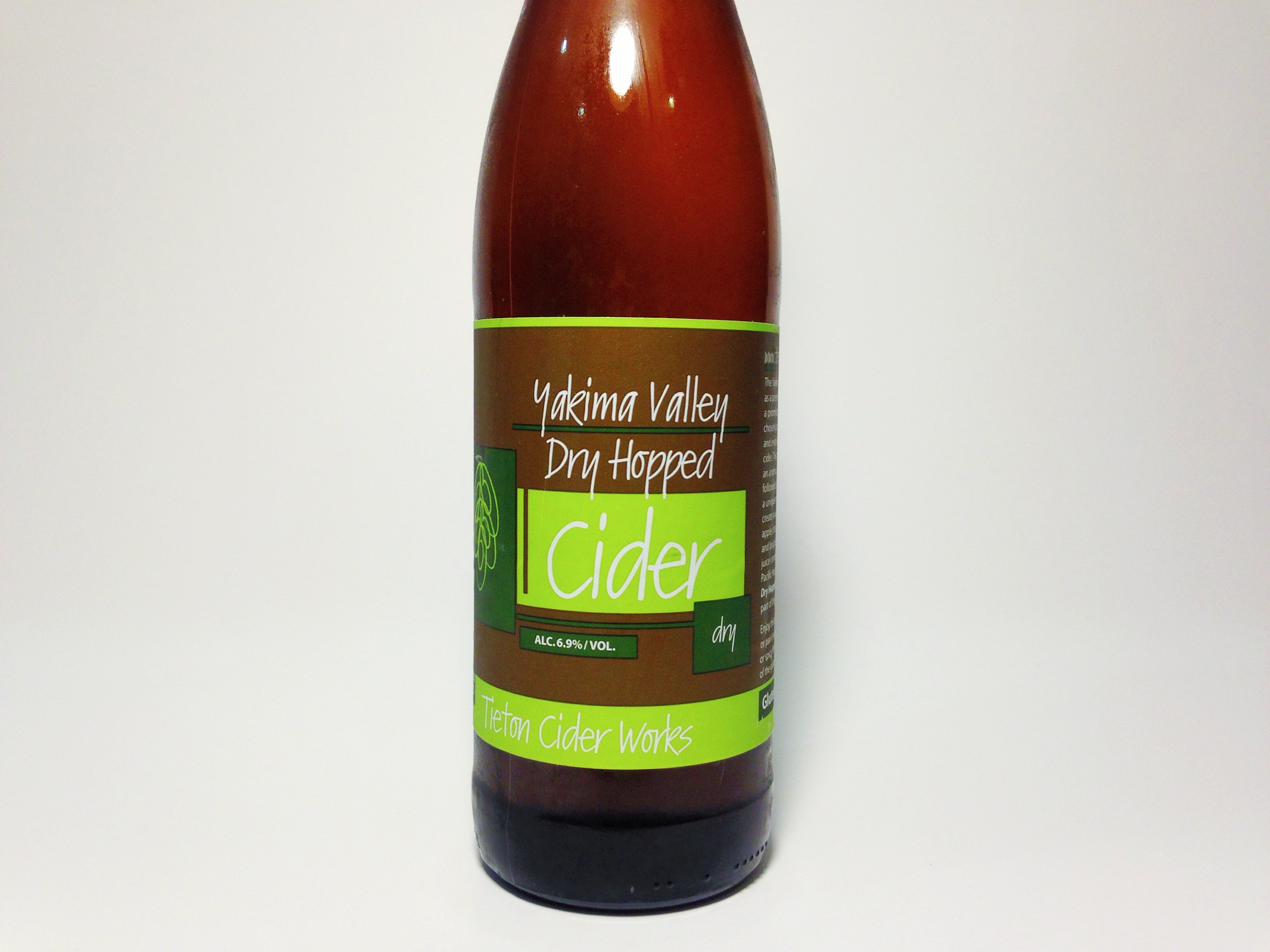 It's easy to drink one of these ciders and miss the appeal, or even purpose. While I enjoyed drinking the ciders on their own, they really shined through when paired with food. Considering how light in both body and flavor these ciders are, an assumption can be made that it would require a light salad, or some sort of white fish. I went the other direction and had a Philly cheesesteak sandwich with onion rings. Despite the lighter flavor of the ciders, it wasn't overpowered by the fried deliciousness of cheesesteak or onion rings. Instead it not only stood it's ground with these intense flavors, it worked as an excellent palate cleanse in between bites; cutting through all the fat and grease and offering up a delicious counterpoint.
If you find a bottle of any of these ciders be sure to pick it up. You'll get the most enjoyment out of it if you have it with food. I'd venture to say any food, really. These ciders are so food friendly, Tieton's website offers up several food pairing ideas and recipes that include everything from seafood to grilled meats.