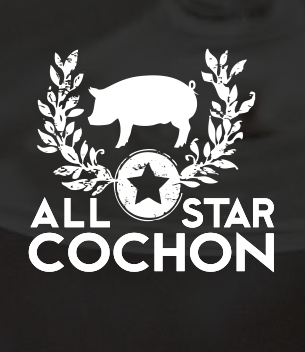 COCHON 555 was founded as a means to help raise the awareness of heritage breed pigs. These are pigs that are raised and grown naturally, providing a richer, more robust flavor when compared to their blue collar counterparts: factory raised industrial pigs. Naturally, the only way to preserve these upper class heritage pigs is to eat as many of them as possible!
COCHON events feature several whole heritage pigs, along with several chefs to prepare various dishes using every piece of the pig. Jokes aside, the idea is that through these nationwide events, consumer awareness will be raised, not just of heritage pigs, but also of sustainable food systems.
One of the event's sponsors, Crispin Cider, was generous enough to provide us access to the Las Vegas COCHON event, located at Commonwealth downtown. To ensure that these pigs are getting the awareness that they deserve, Danny and I made sure to overindulge, and binge eat as many pork products as possible. That was the point of all this, right?
With words like "heritage" and "pig" being thrown about, it may sound like this was the type of luxurious event that you would read about in The Great Gatsby. However, the scene felt a little bit more like Oliver Twist, with crowds of well dressed adults surrounding a renowned chef, reaching their empty plates forward, hoping to get their ration of pig meat (I admit, I never read Oliver Twist, so I might be a little off here).
The theme for the night was Asian, so we indulged in noodles, stews, Korean BBQ, and bánh mi sandwiches. We also ate excessive amounts of oysters. An absurd amount of cheese was laid out as well. And of course, there were drinks.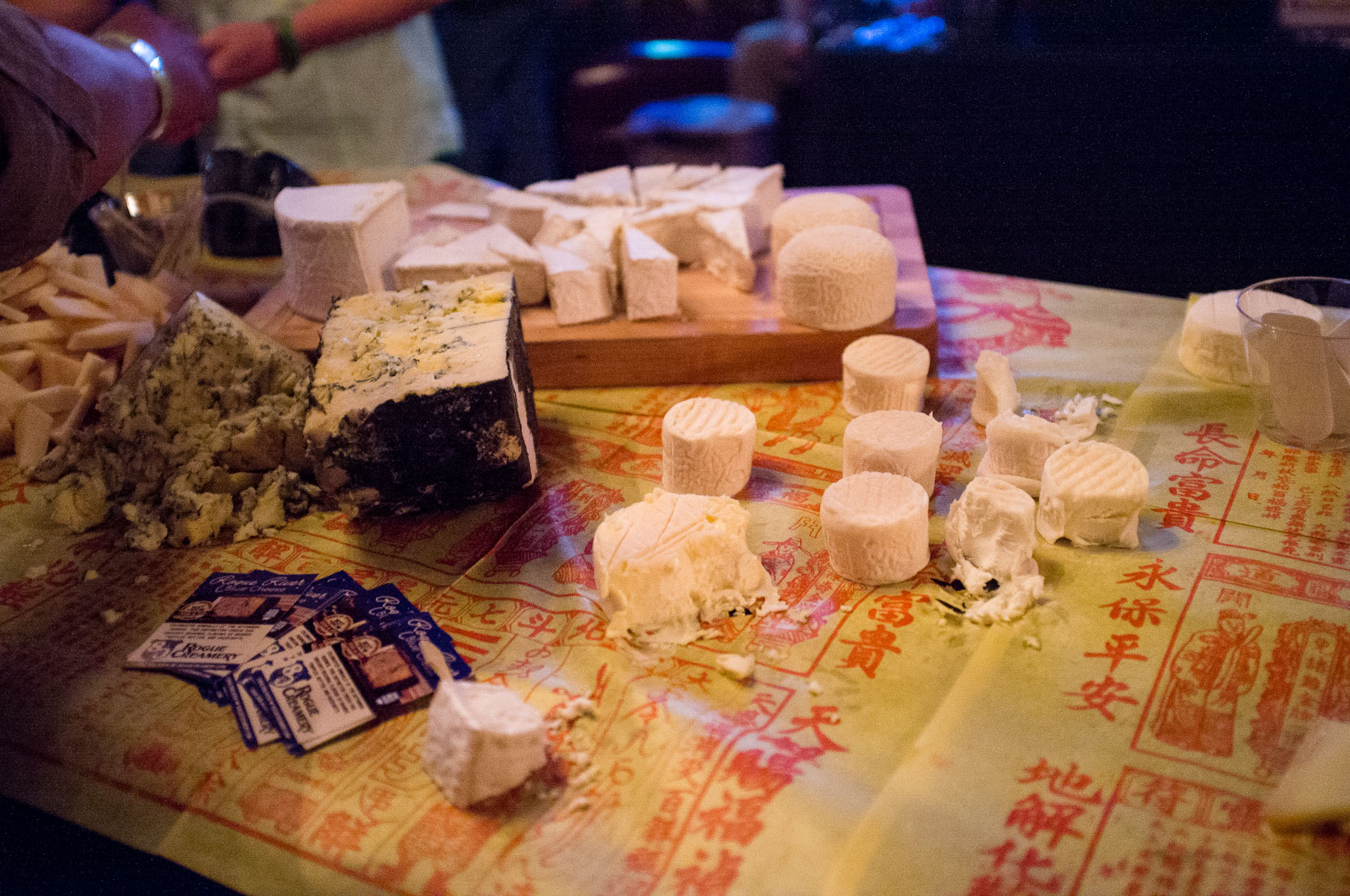 I've never really given cider much thought. My only exposure has been of the sugary abomination variety. Crispin is not that kind of cider. Crispin proudly uses 100% apple juice, not from concentrate, and they naturally ferment it without any added alcohols, or any post fermentation sugar added, giving the cider a more natural taste.
Several of Crispin's ciders were available to drink. The original has a bright green apple aroma, with a very light, sweet taste. Overall, it is an extremely light bodied and refreshing drink, but isn't exactly a type of beverage that would pull me away from beer. However…
There were two ciders that completely changed my impression of what a cider is. One was named Georgia. It was a cider that was aged in bourbon barrels and had honey, peach juice, and mint added. The cider is as full bodied as any beer I've had with not only a sweet apple flavor, but it was also very oaky, with a lot of vanilla characteristics.
The second, and my preferred drink of the night, was The Saint. The Saint is a cider fermented with a Trappist beer yeast, giving the cider the typical clovey and phenolic flavor that Belgian beers are often known for. The flavor wasn't as intense as Georgia, making it much more drinkable.
Aside from that, the event was filled with different bourbons and mezcals, and quite a few wines. The speakeasy/ laundry room located inside Commonwealth was open to the public where they were serving what that described as the "perfect Manhattan."
Primarily, we focused ourselves on consuming as much of the amazing pork dishes as possible. Personal favorites were the pork fried rice from chef Jason Vincent of Nightwood in Chicago, the pork fat wontons from chef Scott Drewno of The Source in Washington D.C., and the Sichuan maw salad by Rita Jia You of Lucky Strike in Portland. Seriously, I probably ate about four servings of each of those dishes!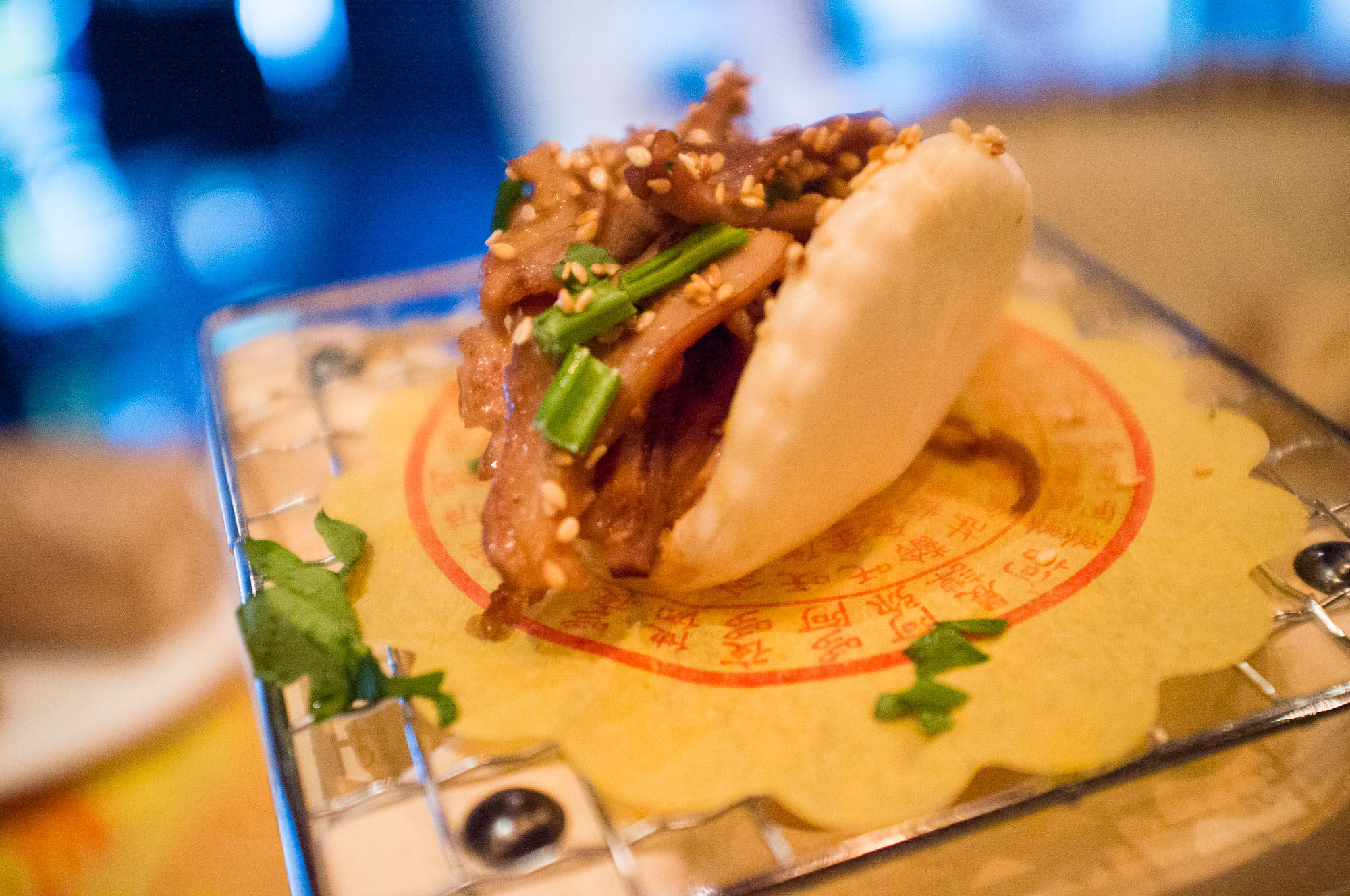 Slightly creepy, but also slightly awesome: Amelia Posada and Erika Nakamura of Lindy & Grundy in Los Angeles were having a "pop up butcher shop." Those two were doing a live butchering of an entire pig and selling the pieces to benefit a local culinary school.
All in all, COCHON was an awesome event, and definitely worth it. Check out cochon555.com for news on the upcoming 2014 tour, and be sure to attend one of these!
All photos taken by Danny Szeto