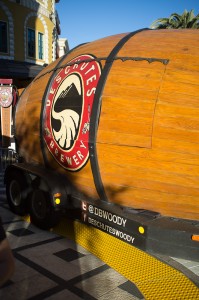 April 21, 2012 marked the second annual Great Las Vegas Festival of Beer, held once again at Tivoli Village.  Last year's festival was a bit underwhelming.  There was little room, and a strong lack of organization.  I'm pleased to say that this year, they seemed to alleviate both of those issues.  The space given to the event was three times larger, and the overall professionalism of the event was greatly improved. While I could do without loud bands playing throughout the event, I'm sure that many people enjoy the live music atmosphere.  Now…on to the beer!
My wife and I decided to be fancy and go with the VIP tickets this year.  This allowed us to enter an hour early, and to enter a "Brewer's Lounge" with food and special beers.  The special beers were simply bottled Ommegang beers, which are available at most liquor stores, and Tailwagger Wheat, and Rebel Red from local Big Dog's Brewery.  While these are all solid beers, there is nothing really special about them.  With that being said, the VIP tickets were worth the extra $10 for the early entry.  By the time Tivoli Village started filling up, we had already made one lap around the area.
I was very happy to find some nice surprises amongst the beer selections this year.  Noble Ale Works was in attendance, sampling their IPA, Pale Ale, and phenomenal Alpha Red.  Hopefully we will see these on Las Vegas shelves sooner than later!   (UPDATE: Khourey's Fine Wine is currently carrying Noble Ale Works) Dogfish Head were pouring both their refreshing Aprihop, as well as their coveted 120 Minute IPA in the "Hop Tent."   Stevens Point and Three Monkeys, both new to the Vegas market, were also in attendance.  I quite enjoyed the Brown Barrel Ale from the latter, and their Tres Vasqueros Amber Ale is about as fine of an amber ale as you will find!  I was only able to try the Cascade Pale Ale by Stevens Point, but it was a nice, if unspectacular pale ale.  Other breweries in attendance, included Wasatch, Squatters, Crispin Ciders, Unibroue, Green Flash, New Belgium, Left Coast, Uinta, Firestone Walker and Ballast Point.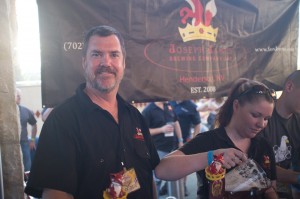 Not to be outdone, Las Vegas' locals had a fantastic showing of their own!  On hand were breweries, Tenaya Creek, Joseph James, Big Dog's, and local craft beer bar Aces and Ales.  Aces and Ales were pouring two fantastic Rogue selections in XS Imperial IPA and Brutal IPA.  Tenaya Creek had a fine selection of their own local brews, including Calico Brown and their Hop Ride IPA, which made it to the Elite 8 in the National IPA Championships!  Thankfully, if you missed out on either of these brews, you can always visit the brewery year round!    Big Dog's really managed to surprise me with their Alpha Dog double red imperial ale.  Big Dog's has always been hit or miss for me, but this hoppy concoction won me over at first sip!  Last, but not least, is Joseph James.  Joseph James had their stellar Hop Box and Tahoe Blue on hand, but what really blew me away was their "experimental" crafts.  The first beer they unveiled was a Cherry Pie Blonde Ale.  In my opinion, this was a splendidly refreshing beer with nice subtle notes of cherries.  The second new brew that they unleashed, was appropriatley  titled Baby J's German Chocolate Cake Stout.  All in all, this may have ended up being my favorite beer of the event!  Just as the name implies, this was German chocolate cake in a glass!  Big, chocolate and coffee stout flavors, with a perfectly balanced coconut flavor throughout.   I really hope this one ends up in a bottle someday soon!
Overall, I would highly recommend that any lover of craft beer does not miss this event next year!  Las Vegas craft beer needs your support, and the prices ($27 for regular, $37 for VIP) are very reasonable when you consider the amount of beer you will be experiencing!